The text is a courtesy of GoodFirms
Customer expectations have evolved more than ever before, with customer service changing continuously. Though e-commerce platforms and businesses offer 24/7 support, most customers prefer interacting directly with a company's representatives. This is where Support-as-a-Service has stepped in. Support-as-a-Service is a process leveraged to automate customer outsourcing services and technical support. It allows businesses to process outsourcing companies to add agents based on their requirements from anywhere on a monthly basis. Customer support outsourcing has allowed these companies to provide 24/7 on-demand support even after normal business hours, to augment customer satisfaction, increase customer engagement, and boost brand reputation.
Top-rated IT Review and Rating firm GoodFirms has recently ranked SupportYourApp as a top upcoming achiever for its exceptional outsourced customer services and recognized the company as the 'Best Company to Work With.' Established in 2010, SupportYourApp is a PCI-DSS compliant and ISO/IEC 27001:2013 certified outbound customer support provider with offices in Europe and hubs worldwide. The company offers broad-ranging services like customer and technical support, back office, help desk, outsourced answering service, etc.
In this article, we'll cover:
In 2023, GoodFirms Has Named SupportYourApp as the Best Company to Work With
If you are looking for the leading business process outsourcing company to amplify the customer experience and boost the satisfaction level, then SupportYourApp can become your viable choice. The company provides high-quality 24/7/365 third-party customer service in 55 languages using all possible channels of communication. SupportYourApp has built its in-house support ticketing system, QCRM, integrated with online chat and voice call facilities to deliver exceptional customer support. As mentioned above, the company is PCI-DSS and ISO 27001:2013 certified, therefore, it follows all the requirements, including but not limiting to the administrative/management, technical, logical, physical and compliance controls, to ensure a high level of security controls around the customers' data is provided. It has enabled SupportYourApp to earn recognition as the 'Best Company to Work With' by GoodFirms.
Why Is SupportYourApp the Best Company to Work With?
Today, companies that offer outsourced customer service and support have become more advanced and proactive by implementing the latest software tools and technologies. SupportYourApp is keeping pace with the competition with improved and smooth coverage, comprehensive training, multilingual support, and minimized response time.
Let's check out a few customer reviews below.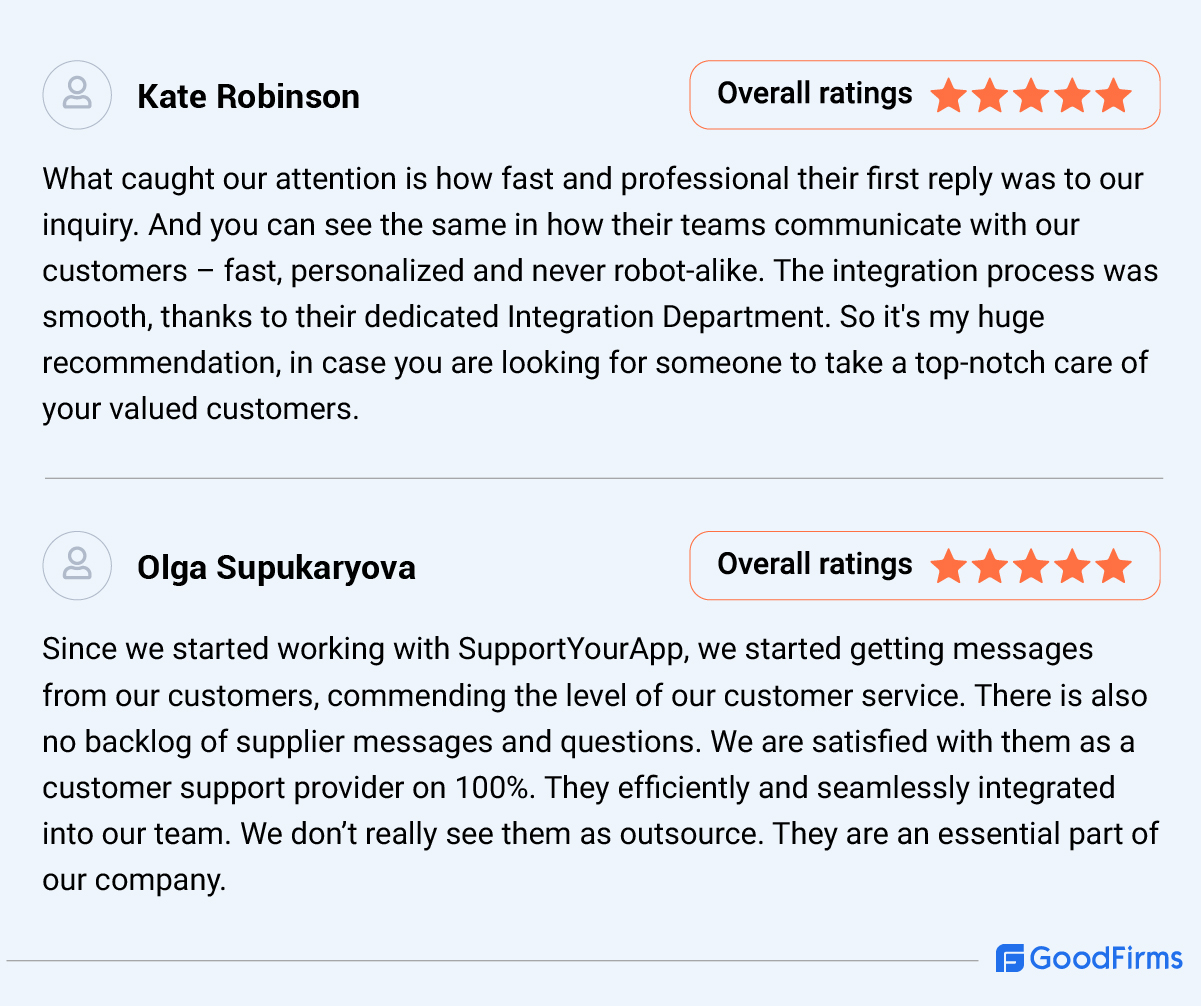 We at GoodFirms believe that SupportYourApp has gained more prominence due to its cost-effective and reliable outsourced customer support, with the utmost priority on data security. The company is helping brands reach new heights.
About the "Best Company to Work With" Badge
"Best Company To Work With" is an exclusive program run by GoodFirms. All companies recognized as the top performers via its Leaders Matrix program get a chance to claim their Badge, along with an exclusive article about the Company and a supporting PR. Such recognition stands as a support to developing trust and authenticity within the B2B community. It also allows participating companies to improve their ranking — rank higher in the Leaders Matrix categories and receive inbound backlinks from the GoodFirms LeadersRoundtable podcast campaign, with a certified Badge saying, "Best Company to work with".
About GoodFirms
GoodFirms is a B2B review and rating platform that helps businesses accelerate their digital journey and maximize modern technology's value. The company connects service providers with service seekers through a comprehensive and thoroughly researched fact-based list of the best services and solutions. Recognized as the most reliable source for the B2B market, GoodFirms has world-class experience with partners across the globe.
❤︎ Like it? — Share: Share on LinkedIn or Share on Facebook

By Anna Shevtsova
.
Anna has been working as a writer for 6 years. She previously wrote about financial markets, conducting the research on the state of bonds and stocks on a daily basis. She is a keen reader with interest in historical literature and international cuisine. Her latest obsession — customer communication and ways to perfect it. If you want to connect with Anna, follow her on LinkedIn.
Posted on