Last holiday season, businesses reported a 68 percent increase in customer service inquiries. Now, 85 percent of customers say they will keep on making online purchases, and businesses and support teams should prepare for a very high holiday inflow.
Dealing with it can be much easier if a holiday season support strategy is developed and adopted on time. 
What are the most vital steps in holiday customer support strategy?
In this article, we'll cover:
Automate Where Possible
86 percent of customers prefer to communicate with human customer support. To optimize the processes, support teams should know what to automate and how to communicate the automation to customers. 
⭐ SupportYourApp expertise: Automation is a big part of our processes. We have: 
Automated customer replies — they help our teams quickly notify customers about receiving their tickets or requests. 
Chatbots — they help resolve customer tickets without involving human support consultants. 
QUOSTON — an AI tool that helps us automatically sort through customer inquiries and reply to the most urgent requests first. It decreases the waiting time for angry customers and raises their satisfaction level. 
Making automation a big part of the holiday season support and customer communication will help make this time less stressful.
Leverage Omnichannel Approach
More than half of companies admit to using at least 8 channels of customer communication. 98% of US users switch between their devices on a daily basis. They can start looking for a perfect holiday present on their phone, switch to their tablets, and finalize the purchase on their laptop. A business should be ready for these changes. 
⭐ SupportYourApp expertise: Our in-house built QCRM allows our support teams to be omnichannel and communicate on the phone, via chat, email, messengers, and social media. Our teams also follow customers up on App Store and Google Play to make sure they are satisfied and had all their question answered. 
This allows us to stay on top of customer communication during the holiday season. We are prepared for customers switching devices and always prepared for changes.
Personalize as Much as Possible
72 percent of shoppers say they engage only with personalized messages. 66 percent of customers say they feel like a number, and not a person, when interacting with brands. This drops their satisfaction and increases their chance to churn.
⭐ SupportYourApp expertise: Personalization and the ways of leveraging it lies in the core of the SupportYourApp training and onboarding. We: 
Call customers by their first names.
Adapt our communication style for each customer.
Find unique ways to go the extra mile. 
Give the information in a language understandable for every customer. 
Integrated in our DNA, these techniques help us find a correct approach to every customer. Even during the busiest and jolliest of time, they allow us to be on top of our game. 
Prepare the Team Beforehand
Seasonal increase in customer communication should not pose a challenge for the team. Knowing how to deal with it should be one of the support team's core skills.
⭐ SupportYourApp expertise: Having worked with hundreds of projects from different segments, we know how to deal with a constantly high flow or with its seasonal spikes. We know when to suggest expanding the team for the holiday season or set automation for a bigger number of processes. We optimize holiday customer communication and make sure our teams do not burn out. 
Always Be Honest
84% of customers claim honesty is a crucial business trait. It is even more true during the holiday season, when shipment and stock information can make or break someone's Christmas. Being honest about the time frames, availability, cost and additional waiting time, even when the information is not pleasant, is a clue to providing quality customer service 
⭐ SupportYourApp expertise: Honesty is one of the SupportYourApp values. We are always honest, not only with our clients' customers, but with each other. To provide the most relevant and true information, we stay in touch with our clients' and update our knowledge and databases.  
Spread Holiday Cheer
74.5 percent of e-commerce businesses say holiday season customer service is their second-biggest concern.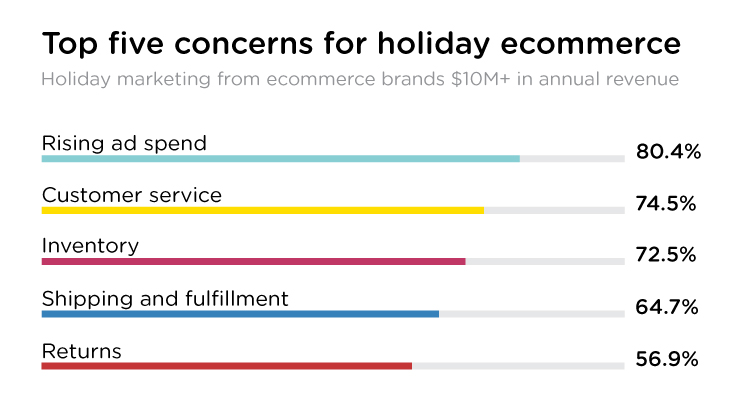 This mood should not reflect in the quality or style of customer communication. Customers should feel welcome, cheerful, and overall amazing, especially around Christmas. 
⭐ SupportYourApp expertise: Not only do we love Christmas and celebrations, we also love helping our clients' customers. Combining these two, brings us joy and reflects in our holiday support strategy. We do everything we can to make sure everyone feels Christmas in the air. 
Developing a perfect holiday support strategy and preparing the team takes a lot of time and effort. To free up resources, businesses turn to professional Support-as-a-Service providers that help them optimize their holiday support and not to lose sight of their business processes. 
❤︎ Like it? — Share: Share on LinkedIn or Share on Facebook

By Kseniia Savchenko
.
Kseniia has worked her way from a Customer Support Consultant to Chief Internal Operations Officer at SupportYourApp. She finds a way to relax in dancing and reading.
Posted on