World-wide spending on AI-centric systems will pass $300 billion by 2023. Even despite popularity and growth, implementing such systems in the processes of any team is not an easy task. Along with all the advantages AI can bring to customer support, it still has shortcomings that can create certain roadblocks and pose challenges.
What are the most common complications a manager can come across when introducing AI to support teams?
In this article, we'll cover:
The Amount of Data and Its Security
Only 23% of businesses use AI in their daily processes. After all, AI and ML models require a large amount of data that needs to be gathered, processed, and maintained. This requires a system able to withstand the pressure from not only a big data set, but from an ever-growing one. A system not all businesses can build.
Support teams' managers need to prepare and have a proper data processing system in place. Acquiring additional data security certifications and compliances, like ISO and/or PCI DSS, is also a must. These requirements can really create difficulties, especially for small businesses and start-ups that want to do it all themselves.
The solution: assess all project information needs before diving into any AI development. The key here is to accumulate and maintain only the data a support team requires to provide quality service. This will also take care of the extra pressure put on the system that has to maintain a large amount of data not even used by support representatives.
The Matter of Cost
The price for developing AI solutions varies anywhere from $6K to $300K. This is one of the costliest investments a business can make. What makes it more risky is the lack of understanding whether the technology will perform as planned and will actually help a support team.
Whether a business decides to buy a ready-to-go customer support AI solution or will develop its own AI-powered CRM system, it will still take a lot of investments to perfect it and make sure it covers everything it needs to. At the same time, 63% of executives say implementing AI leads to an increased revenue, so the investment may be well-worth the risk.
The solution: a leader needs to evaluate the cost of the implementation against the potential benefits AI can bring into a support team, set realistic deadlines and achievable goals that would be within the budget.
Time and Effort
Developing an AI project may take up to 36 months. Imagine the time, resources, and effort needed to test the system, make tweaks, and perfect it — the process is endless.
Development of AI projects is no excuse to stop everything else. QA, Business Development, integration of new projects, and hiring of new professionals have to go on. The team has to be enhanced with new members to accomplish everything in a timely and quality manner.
The solution: once again, set realistic goals and deadlines and expand your team with additional members if needed. One of the best approaches to AI development is to manage the process in a Kanban-board system like Jira or Trello. This way, no task will get lost and collaboration between different technical professionals will be off the charts.
Customers' Trust
Despite 72% of businesses reporting a positive influence of AI on their business, customers still have a hard time trusting it — only 25% of US customers say they are "Happy" or "Very Happy" with chatbot customer service.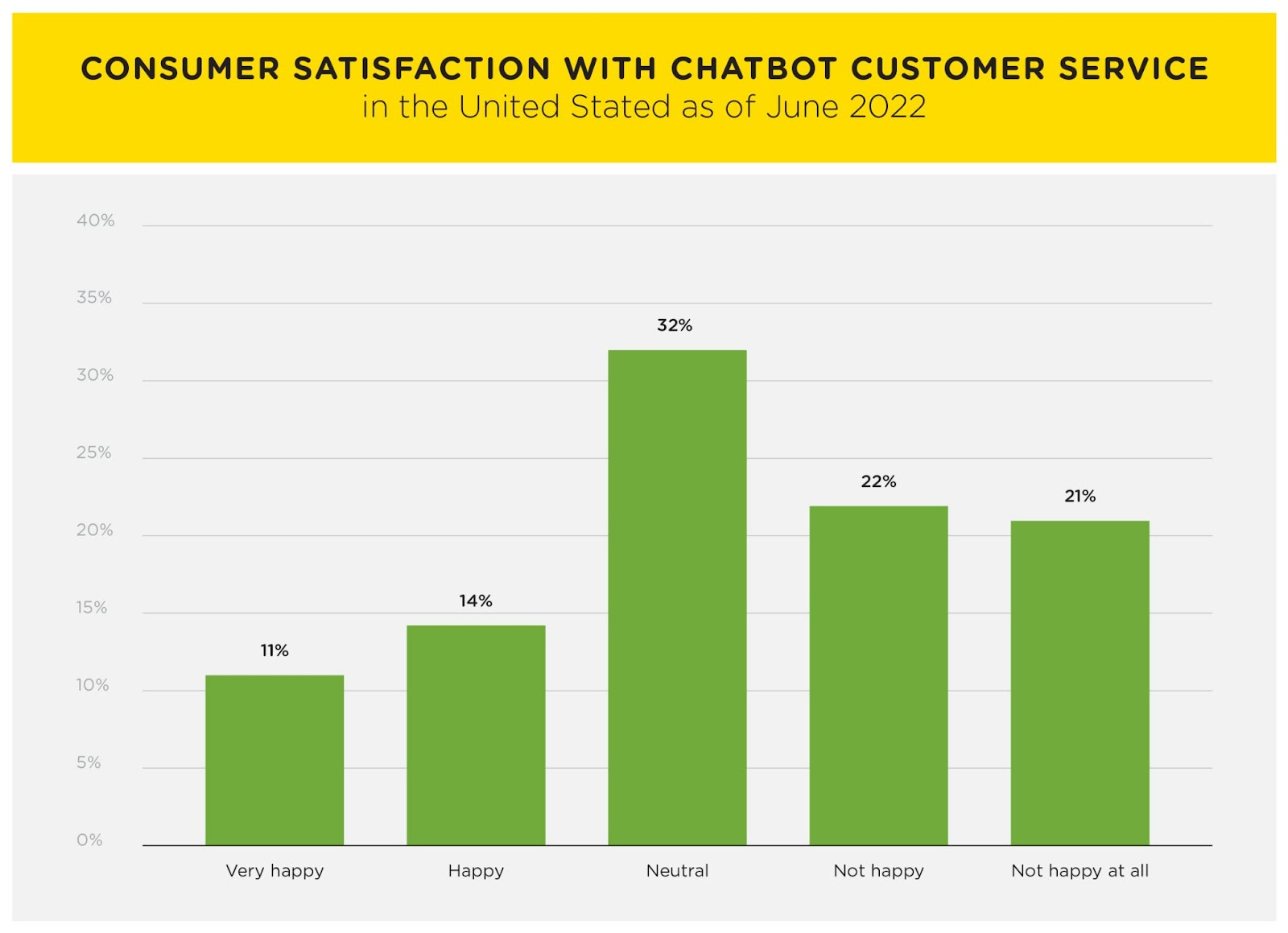 The key here is to strike the right balance between AI and human consultants. This may require an even more difficult support system.
The solution: a business needs to make sure there is a professional Support-as-a-Service team a customer can connect with by giving them an option to switch from a chatbot to human at any given time. This step should be a 'must' of customer communication. Keep in mind — only in human-AI collaboration do both of them open to their true potential.
These challenges may seem intimidating at the start, but once they are overcome and the system is in place, the results will be well worth it.
❤︎ Like it? — Share: Share on LinkedIn or Share on Facebook

By Daria Leshchenko
.
Daria Leshchenko is the CEO and Managing Partner at SupportYourApp. Taking charge of SupportYourApp at the age of 21, Daria turned it into a multinational business and one of the TOP-5 customer support providers. She is a Harvard Kennedy School alumna and a contributor to Entrepreneur, Sifted, Crunchbase, The Next Web and HackerNoon. She was interviewed by Nasdaq, TechRound, Authority Magazine and was a guest on several podcasts. Daria was recognized as the Woman of the Year (2021) in Customer Service by Stevie Awards. In 2022, she received a Golden Globee Award and became the Customer Service and Success Woman of the Year. In 2023, Daria was featured in the prestigious 200 Female Founders list by Inc. and was recognized as Accomplished Leader by CCA. Daria is a startup mentor, a public speaker, art and sports enthusiast.
Posted on