How does it feel to work at SupportYourApp? Sara, our Senior Delivery Manager, shared her personal tips to see new opportunities, grow and succeed with us.
In this article, we'll cover:
First Steps With SupportYourApp
This is my first experience in the Customer Support industry. As I applied for a support consultant's position, I had no idea what I was getting myself into. I am a physiotherapist by education, and I never thought I could fit into the healthcare industry. Even though it's directed towards helping people, at the same time it is somewhat a very cruel industry, with the added on stress and responsibility towards patients and their wellbeing. I thought: where can I use my English skills and my background in assisting others? Honestly, I just went on Glassdoor and started scrolling through. While searching, this bright yellow icon with a headset caught my eye. The whole branding stood out to me, in comparison with other companies, it made a great impression, the position looked interesting, so I applied and didn't think much of it.
I started with a project that focused on mental health. That was something very close to me, as I give a lot of attention to it. Even now, in my team, this is my first priority. The clients were satisfied with my performance, and at some point my manager thought I would be a good fit for a new position. In fact, I didn't know what was waiting for me. I just had a call with Veronika, who was our CCO at the time, and it was literally the weirdest call ever. This was the first time I met her, and I didn't know what to expect, so I just jumped on the call, and had a totally casual and relaxed conversation. I didn't even suspect that it was a formal call, and I was interviewed for something. I just felt I was talking to someone really nice, who wants to know me better. At the end of the call, she just asked, "How do you feel about service delivery?". So I may say, my journey here was as light as possible, like a walk in the park.
Surprises on a Delivery Manager's Journey
I believe the main thing that makes SupportYourApp special is the team. The attitude and the atmosphere here make everything go smoothly and comfortably. It is also a very welcoming environment for young people who are just starting their career. It doesn't matter who you are, where you are from, what you did before, what skills you have. Nothing matters, if you really want to work. And if the management sees the potential in you and the fact that you do want to learn and grow, they nurture it.
When I was first introduced to my position and met other Delivery Managers, I was a little overwhelmed. I got ready for a very stressful role, and at first, from what I heard, I got an impression that it is unmanageable. But luckily, my impression turned out to be wrong. I would say, it's really all up to your approach towards your duties, and what you enjoy doing. I enjoy challenges, I enjoy situations where I need to brainstorm and find a solution, think of a strategy, apply everything I have learned until this point, which makes this position perfect for me. Also, my experience as a consultant was really helpful, as I have been in the field and understood all the processes from inside.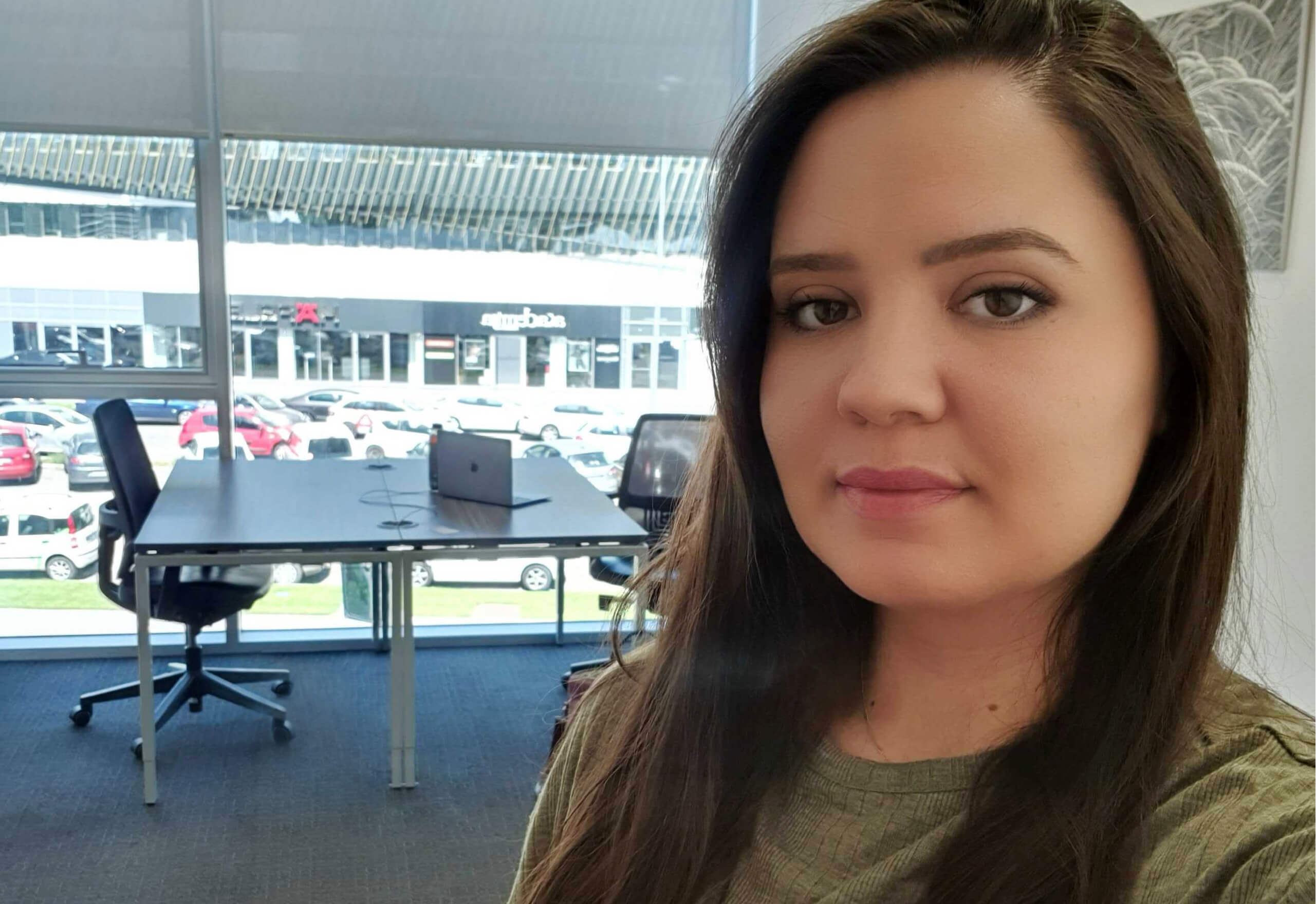 Discovering New Horizons With an International Company
Living in Serbia, I assume that cooperation with a foreign company may seem a little intimidating for many people. Luckily, I'm not one of them. Being in contact with other nationalities and companies from different countries is not something new to me. I have spent some part of my life in Australia, so I may say I have a versatile experience. Eventually, everything depends on team members and the atmosphere in the company itself. I have never been to SupportYourApp's offices in Kyiv, but I can feel what the energy might be like there. I'm always present on team calls, our team and I are close, I feel their mood, and usually it's a pretty good vibe.
Someone may say that integrating into business processes remotely may be challenging, but I barely felt the difference. Cooperation in the Service Delivery team is as easy as it could be. I was always reaching out to people, asking questions, jumping on calls with them, asking for help whenever I needed it, and everyone was ready to help me. I barely felt any kind of disconnection you would expect when you are participating remotely.
Currently, I am attending our office in Belgrade, and I honestly enjoy the hybrid format. I believe this is a new reality that might stay with us for good. When I'm super busy, I prefer to be in the comfort of my own house, where it is easier to focus. But as I have a looser schedule, I enjoy coming to the office, seeing all my consultants, working together, sharing stories and getting to know each other. I can't think of a better way of working.
How We Work at SupportYourApp
In my first team, everyone was incredibly close. We used to jump on calls after hours to just chat and have some fun. Everyone always wanted to help each other, find the solution to every issue. Now, I do my best to recreate that atmosphere in my team and to influence other people to see that our company is not just a workplace. We spend nine hours a day with our teammates, and we might as well enjoy it.
Also, one of the warmest moments here are the birthday celebrations. Those are extremely fun. People gather in our Kyiv office, and all remote team members join on a video call, getting congratulations. Those small details show how our company cares for people, and this is what really makes this place special.
When Daria, our Managing Partner, visited the Belgrade office last year, the way she always used "we" in her sentences, not "I" or "the company", really caught my attention. It really stood out to me and I remember it whenever I'm representing our company. Instead of saying just "SupportYourApp", I always say, "we at SupportYourApp". Everything that is done here, is the result of our mutual efforts. We're all going to success together, not as separate people, but as a team. I strongly believe that having this approach helps anyone here grow.
Besides that, a real key to success is being diligent, having a desire to make a difference, and being open to anything. Open to different opinions, new challenges, or someone who invited you on an informal call to offer a new position. Anything really. This is an essential feature that will help discover new opportunities for growth.
Embracing Your Fears and Dealing With Them
The last couple of years were challenging and uncertain for most people all over the world. And honestly, the reasons to worry about are valid. When you see predictions about financial crises or the layoffs happening in so many countries, it's quite natural to worry about your own future. But I don't like this way of thinking, it puts you in a corner and doesn't let you get out.
It's good to use a business approach and learn to see opportunities where others see troubles. With numerous layoffs happening in countries of Western Europe or in the US, an opportunity comes for us in other parts of the world. It is the first time when a lot of attention can be directed towards Eastern Europe or other countries that were underrated for a long time. This is the time to shine. We have a lot of great specialists, and the service quality is getting really outstanding, and already exceeds expectations.
Being scared of the future does nothing good for you. It can stop your growth, and might actually be the reason you lose your job, because you're not going to be productive while stuck in that fear cycle. But if you have a positive attitude and perform really well, there will always be a place for you.
At the same time, we should know that being anxious is ok, and it happens to everyone. The point is to find a way to cope with it. Don't be afraid to look for friendly support and a helping hand. Here at SupportYourApp, we are lucky to have the most amazing teammates who are experts in being supportive. This is what I always try to do, whenever I feel my team needs me. I say, "I don't want you to think I'm your manager, I'm just Sara. If you are comfortable sharing with me, I would love to hear what you're feeling. Maybe I have been through something like this and my experience could help you". This is quite a simple formula, but it really works.
At the same time, whenever you are struggling, don't underestimate the small moments of joy. Things like being with your family or playing with your dog will do much more for your mental health than you may think. Whenever you're stressed or in a bad mood, just start with going outside, breathing fresh air, and spending some time in the sun. We are tied to our laptops all the time, and taking even 10 minutes to go outside often helps restart our brain and feel better. We don't even understand how things are very simple, once we take time to notice it.
❤︎ Like it? — Share: Share on LinkedIn or Share on Facebook

By Anastasiia Nesterova
.
Anastasiia is a professional writer with a diverse background. She used to write about IT, logistics, business, but now her main interest is customer support and communication. Anastasiia's biggest passion is reading — she prefers books over anything. She believes that the greatest thing a keen reader can do is to write themselves.
Posted on