In just a couple of years, we have seen several new means of transportation emerge in the market. It develops and changes, which means everyone has to learn to deal with Mobility as a Service industry.
In this article, we'll cover:
What Is Mobility as a Service?
Mobility as a Service provides customers with a possibility to plan, book, and pay for the upcoming trips through the same app, even if several means of transportation during the trip are used. It combines private and public transportation and enables a single-account payment.
There are several sub-types of Mobility as a Service:
Cycling as a Service — bicycle sharing market is predicted to reach $13.8 billion in 2027. Around 1.1% of professionals use bicycles to get to their offices. It saves between 700 million and 1.6 billion of fuel gallons and decreases CO2 emissions by 6-14 million tons annually. Integrating Cycling as a Service into cities' structure can take a lot of pressure off of the public transport system. 
🚲 Can be found in: China, France, England, USA, Ukraine, Spain, Canada, etc.
Car as a Service — car sharing market is valued at $2 billion and predicted to grow by 20% until 2027. Car as a Service includes: car sharing, carpooling, car renting and other related services. This branch can fill in the gaps created by inadequate public transportation systems and make cars accessible to anyone.
🚗 Can be found in: Germany, Australia, USA, UK, UAE, India, etc.
Micromobility as a Service — electric scooters, unicycles, bikes, and self-balancing scooters are the talk of the town. By 2028, electric scooters are likely to make up to 8% of all two-wheeled transport. This type of vehicle allows users to be mobile and reach even the toughest places in the cities. 
🛴 Can be found in: Austria, France, USA, China, etc.
Mobility as a Service — Convenience in the Detail
Reduces the Amount of Planning
The more customers have to plan and spend time thinking about the commute, the lower their satisfaction will be. Having an app eliminating the hassle of looking for additional means of transportation, even for in-city trips, reduces the amount of pre-planning and elevates customer satisfaction.
82% of people travel because they want to reduce stress, and MaaS can help them with this.  
The System Is More User-Friendly
Here is Tokyo subway and transit map: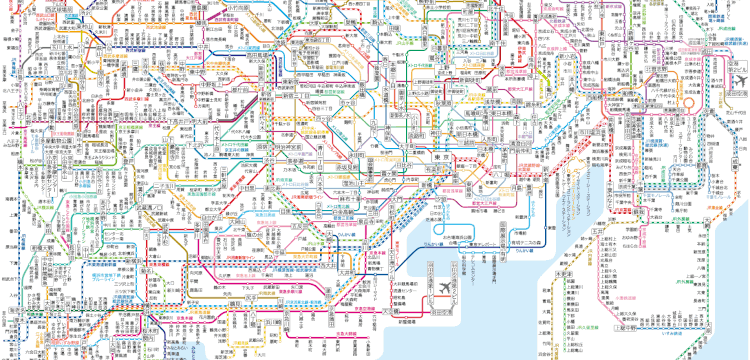 It transports 6.84 million passengers daily. User-friendly? Not in the least. 
Planning trips through Tokyo is tough. Mobility as a Service applications can help both citizens and visitors decrease the level of frustration with overly-complicated transportation systems like those of New York, London or Madrid. They make navigation easier and more user-friendly by compiling everything a traveler might need into one app that can be tweaked in accordance to the changes in the transportation system. 
Provide Flexibility in Payment
One of the core features of MaaS systems is the ability to not only plan, but pay for trips ahead of the time through the same app. This gives users the flexibility to pay in the way and the amount they feel comfortable with. This also decreases the amount of paper money used by the public — a trend supported by 75% of US consumers. 
Mobility as a Service — Difficulties
Adoption Might Lag
Mobility as a Service promises ease of use and simplification of navigation. But some still might find it confusing. Laggards (16% of customers) and the late majority (34% of customers) might argue the system is unnecessary and can be replaced by well-written schedules and routes systems. 
The System Might Get Overload Easily
In big cities like Tokyo, Delhi, or Shanghai the system might get overwhelmed easily, as their population exceeds 25 million people. Mobility as a Service application aggregates of a lot of different systems. Making sure everything works perfectly, and no data is lost or warped, is essential.
It takes a professional and well-staffed team to ensure:
All changes enter the system in the shortest time.
100% of transportation units are included into the system and can be paid for through it.
All users have even access to the system.
Mobility as a Service could be fragile and prone to failures, especially during rush hours. That is why it requires top-notch customer and technical support solutions.
Mobility as a Service Support
MaaS systems benefit from a professional Support as a Service provider. There are several particular features that MaaS businesses can benefit from:
Multitasking
Mobility as a Service requires two types of support — technical and customer.
| | |
| --- | --- |
| Technical | Customer |
| Takes care of software maintenance and updates to escape bugs and lags | Takes care of customers and makes sure they understand the process of using the app |
| Maintains the database in accordance with all public transportation updates | Can answer questions and help customers find the most optimal routes and payment methods |
| Takes care of data entry and R&D | Takes care of customer communication |
| Resolves customer tickets | Compiles FAQ and knowledge base |
Technical and customer support can optimize Mobility as a Service systems, even in the biggest cities.
Around-the-Clock Support Model
There is no way to tell when a traveler will need to look up certain routes or make certain payments. MaaS apps cover several time zones across several regions. This might create difficulties for technical and customer support not working 24/7.
59% of customers are more likely to make a purchase if a business answers their questions in under a minute. Answering customers' questions quickly and correctly can become another perk of using Mobility as a Service application on a daily basis. 
Dealing With Large Volumes of Data and Communication
MaaS requires a lot of data in large volumes. It is the same with customer communication. A dedicated support will have all tools to deal with any flow. The team will also give any Mobility as a Service provider the option to scale it, as might be needed in the industry. 
MaaS is already altering the way we communicate with the systems of public transport in the cities. It allows travelers to gather all information and pay for the transportation through the same channel, making travelling more pleasurable, even if it is within the borders of one city. Giving the system enough flexibility and making it as simple as possible will promote its adaption and development, which can alter the way we view public transport. 
❤︎ Like it? — Share: Share on LinkedIn or Share on Facebook

By Anna Shevtsova
.
Anna has been working as a writer for 6 years. She previously wrote about financial markets, conducting the research on the state of bonds and stocks on a daily basis. She is a keen reader with interest in historical literature and international cuisine. Her latest obsession — customer communication and ways to perfect it. If you want to connect with Anna, follow her on LinkedIn.
Posted on