Increased expectations put a great burden on support teams and can prompt a decrease in customer satisfaction. 77% of customers admit they use automated solutions to resolve their issues. Thus, automation can become a great addition to customer support and a great help for the customer base. 
To make sure everything is right, the team needs to avoid the most common mistakes of customer service automation.
In this article, we'll cover:
Automation for the Sake of Automation
Automation is tempting, especially when it comes to customer communication and optimization. At the same time, 30% of users say reaching a support consultant is one of the most frustrating parts of customer service. For them, full-on automation will become a reason to churn. 
Solution: automate only where absolutely necessary.
Email automation, chatbots, self-service portals, and FAQ's — perfect automation candidates:
📧 Automated emails can notify customers their tickets were received and will be addressed by the next available consultants. 
🤖 Chatbots can help customers resolve the easiest questions. Already, chatbots can generate up to 90% of responses to customers' questions. 
📚 Self-service portals help customers resolve their issues without having to involve any support team representatives. 
Knowing where and when to automate will make cooperation between human support consultants and machines balanced and only improves customer experience.
Not Updating on Time
Outdated solutions can harm business reputation and become a real money-drainer. Using the "one and done" approach —  thinking that once you have automated the process, you can just leave it to work forever — is one of many practices that should be dropped in the ever-developing world. 
Solution: go along with the progress.
59% of global customers say they have higher expectations from customer service than they did a year ago.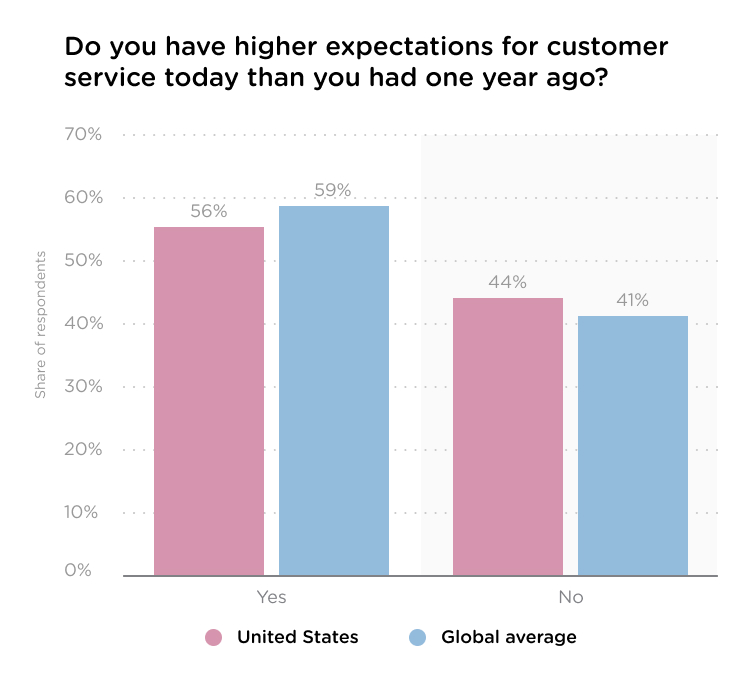 Following up on the global progress and making sure your customer service automations are up-to-date will provide both team and customers with perfect and timely solutions.
Lost Personal Approach
Full-on automation can have unexpected repercussions. For example, churn:
57% of customers still prefer communicating with a live support agent. 
46% of customers feel businesses use automation to prevent them from reaching a live support consultant, which will inevitably bring them to churn. 
Customers feel they are not heard and no one cares about their concerns.
Solution: leverage human-machine collaboration.
60% of users still prefer waiting for the human support consultant rather than speaking to a chatbot. To help customers feel they are heard and understood, always offer an alternative to switch to a human support consultant at any time. Don't forget to provide users with options that will let them speak to a human consultant, whether it's a phone call, an e-mail or a live chat. 
🤩 Find the perfect solution between efficiency and customer satisfaction — this will be the spot for business success.
Excluding Customer Opinion From the Loop
42% of businesses do not listen to their customers and disregard their feedback. Brands like these cannot make the right decision and implement correct solutions because they do not know what their customers want. Even when innovating, they are bound to make mistakes and lose customers. 
Solution: collect customers' feedback. 
Get to know as much about customers' experience as possible. It will help define weak points of customer service and see improvements that need to be made. Response analysis will also let you go an extra mile in customer communication: if you get angry comments or one-star rating, you can pass it on to a customer support manager to handle the situation. This will teach the support team to deal with difficult customers and will show customers you care about and listen to them.
Automating Only 1 Communication Channel
Implementing a chatbot for only 1 messenger or only automating after-hours calls can come off as lazy. It can also over-flood the automated channel and make customer communication haphazard.
Solution: automate evenly and systematically.
Automation is a strategy. It should have a system, a pattern, and a dedicated team behind it. Automation should be set up in a way beneficial for customers. It should also compliment the support team and not overpower it. Automate evenly and prepare the support team to work together with machines.
Customer support automation can significantly improve customer experience and keep business up-to-date. Its main goal is to keep communication personalized. A tandem of automation solutions and a professional customer support team will provide any business with the best results and totally change customer communication.
❤︎ Like it? — Share: Share on LinkedIn or Share on Facebook

By Anna Shevtsova
.
Anna has been working as a writer for 6 years. She previously wrote about financial markets, conducting the research on the state of bonds and stocks on a daily basis. She is a keen reader with interest in historical literature and international cuisine. Her latest obsession — customer communication and ways to perfect it. If you want to connect with Anna, follow her on LinkedIn.
Posted on