Since the start of the millennium, e-learning has grown by almost 900%. The worldwide e-learning market is expected to reach $243 billion by next year.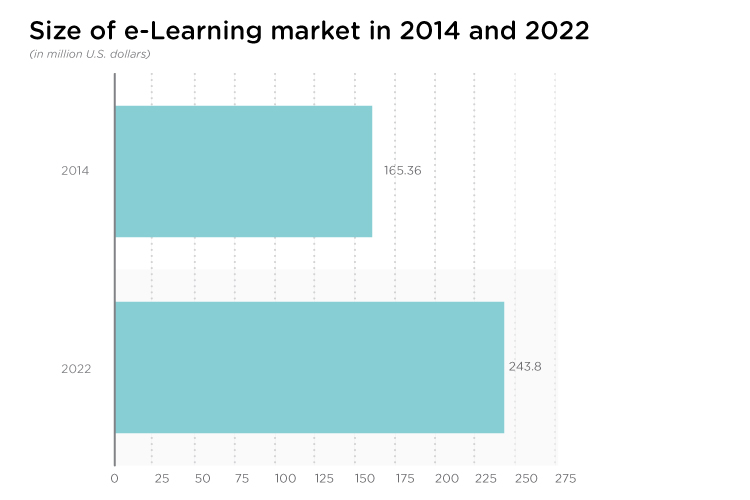 Through the years, e-learning has become one of the most relied-on sources for personal and professional development. How can a professional Support-as-a-Service team help cure the main pains of the e-learning industry, and what awaits it in the future?
In this article, we'll cover:
E-Learning — Challenges of the Industry
2020 was a star year for e-learning. Some companies report the volume of their new online learners grew by 15 times. This growth has exposed some of the most prominent pains of e-learning.
Unique Demands of the Industry and Its Users
The industry needs qualified professionals who will be able to provide students with the latest updates on the subjects.
E-students also have unique demands and expectations when it comes to e-learning. They want to see a personalized approach, fast results, lower prices, and simple interface.
Unique demands of both the e-learning industry and its users might create obstacles that can be resolved through collaboration of all sides: the lecturers, students, and support teams behind the platforms.
Limited Learning Possibilities
Students report preferring in-person studies to online classes and courses. Most of them miss the sense of community as well as face-to-face collaboration. Some say they are distracted by their roommates, pets, or children while trying to study via the internet. Some lack focus and motivation.
Despite these shortcomings, the e-learning industry has been growing by as much as 900% since its birth. Integration with AR and VR technologies will also provide new grounds for e-learning development.
Difficulties in Connecting With the Students
Building a teacher-student relationship over the internet is tough. Since the start of the pandemic, 56 percent of those involved in the teaching process reported a fall in morale. This made building a relationship that much difficult.
This connection is completely impossible on platforms like Coursera or LinkedIn Learning, where courses are pre-recorded and can be watched by students whenever and wherever.
Strong teacher-student connection is a vital factor when it comes to the quality of learning. It can make or break the learning process.
Lack of Personalized Content
How far can personalization go if the course is pre-recorded, or when there are a lot of people in an online class? An email about the enrollment or a graduation certificate with a student's name is as far as it can go.
Personalized e-learning is a powerful tool that can help students enhance their results. Lack of personalization can make some opt out of online classes and go for some old-fashioned in-person courses instead, which will limit the access to certain lecturers or information.
Those who support the development of the e-learning industry and take online classes need professional support teams to take care of their inquiries, or back office teams to maintain the knowledge base up to date.
How to Support Online Learners?
Learn the System Inside-Out
Research shows that about 20 percent of site abandonment comes from customers having to deal with a confusing system. Confusion is also the number one reason why some give up on e-courses. After all, each of the platforms has its own system, rules, and structure.
To prevent this, a support team has to know a platform inside-out. For that:
Encourage the support consultants to use the platform themselves. That way, they will not only know it, but will be able to speak the users' language.
Conduct regular tests and quizzes.
Never leave consultants' questions unanswered.
Compile a knowledge base and update it as the platform grows and changes.
Among others, these steps will help support teams maintain sufficient knowledge about the platform and help customers quickly while using a simple language.
Help Create Engaging Content
A professional back office team can help create personalized and engaging content, and make sure the information on the platform can be visible and accessible by the users.
This side of the e-learning industry requires professionals with technical skills and background. They will maintain and update the database as required without having the need to train the team non-stop, which will ensure a smooth end-user experience.
The more professional the back office team is, the more likely it is that the customers will be satisfied with e-learning services.
Make Everything Accessible
In the United States, about 14 percent of all school students are receiving special education services. About 33 percent of them have learning disabilities. Among other categories, these students require special education services that the e-learning industry needs to take notice of.
To make everything completely accessible:
Make sure all lessons and lectures have subtitles or captions. Ensure a text-to-speech possibility for live lecture so those with hearing impairment are able to learn as well.
Make sure there are courses that do not rely on visuals and can deliver information with sound only.
Provide life-long access to the materials for students to be able to come back to lessons whenever they need.
Make platform interface simple and to-the-point.
Teach your support team how to provide quality service to customers with disabilities.
To ensure full-on accessibility is to show you truly care about every customer.
E-learning is on the rise. With demand growing, professional Support-as-a-Service teams will be able to provide the industry with high-quality, flexible, and adaptable customer service and, as a result, a smooth customer experience.
❤︎ Like it? — Share: Share on LinkedIn or Share on Facebook

By Anna Shevtsova
.
Anna has been working as a writer for 6 years. She previously wrote about financial markets, conducting the research on the state of bonds and stocks on a daily basis. She is a keen reader with interest in historical literature and international cuisine. Her latest obsession — customer communication and ways to perfect it. If you want to connect with Anna, follow her on LinkedIn.
Posted on