NFT market capitalization added up to nearly $41 million in 2018. The market now costs almost $500 million. It grew 800% in the first 4 months of 2021. It sure deserves a lot of attention and understanding.
In this article, we'll cover:
What Is a Non-Fungible Token?
NFTs or non-fungible tokens are unique digital assets that can be sold or bought via various exchanges. Unlike any fungible assets, NFTs have no physical form and exist fully in the digital world.
The best way to describe and look at an NFT is as a certificate of ownership for a digital asset. An NFT can identify a piece of digital art, a video and even a tweet. 
How Do Non-Fungible Tokens Work?
If compared to one-of-a-kind, real-life artworks one can buy and sell with the seller losing the ownership rights, digital art can be duplicated and spread like a wildfire. To get profit, an artist or an author can tokenize their artwork, which would create a unique certificate of ownership. This is NFT, and it can be bought and sold. 
The certificate is impossible to forge as the record of it is stored on several servers. The piece of art, be it a picture, a song, a video, or a meme can still be multiplied and distributed across the internet as users see fit. Essentially, what is bought is the original of the digital art and a unique certificate of ownership. 
❓ What do buyers pay for? Bragging rights.
What Does Creating an NFT Mean?
The first step in the creation process is choosing a blockchain. Right now, Ethereum is the most popular blockchain for NFT creation and distribution. Every blockchain has its own marketplace and wallet that enables the process of selling and buying. It also makes receiving the profits easier for an artist.
❗ Selling NFTs is only possible on the blockchain that was used for its creation. It is impossible to sell NFT created on Tron or WAX through any other blockchain-based platforms. 
NFTs can be sold via auctions or for a certain fixed price — artists are free to decide the conditions on their own. 
What's NFTs' World's Most Expensive Specimen?
No discussion of digital art will be complete without talking about Mike Winklemann. In the NFT world he is better known under his pseudonym — Beeple.
Beeple NFT 'EVERYDAYS: The First 5000 Days' sold for a whopping $69.3 million.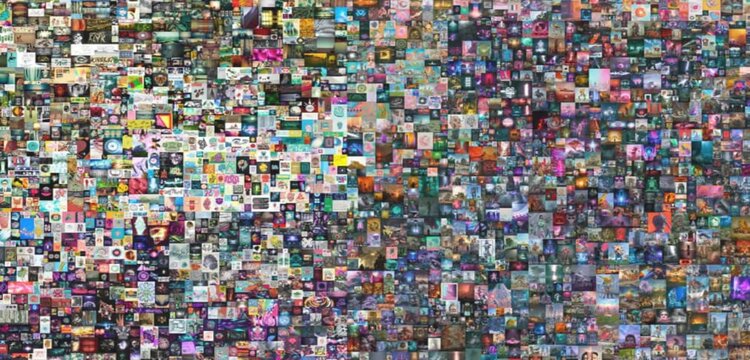 What Does NFT Mean in the World of Digital Art and Blockchains?
The meaning of NFT is to give artists a way to earn directly from their art. No need to rely on auctions and galleries, pay them commission, and go through the hassle of auctioning. 
On the contrary, what is an NFT biggest advantage is that this technology allows artists not only to directly sell their art, but also get royalties from any subsequent sales.
Art pieces are not the only ones that can be monetized through NFTs. 71% of customers prefer doing business with brands that share their values. Different businesses started using the NFT technology for charity. For example, Taco Bell sold 5 food-based NFTs. All proceedings went to Taco Bell foundation. 
Our Spicy Potato Soft Tacos can now live in your hearts, stomachs and digital wallets. https://t.co/IC8b45lmd9 pic.twitter.com/FJUcuwCuyy

— Taco Bell (@tacobell) March 8, 2021
What Is NFTs' Connection With Customer Support
SupportYourApp can already predict what the industry will need: 
Expertise. Knowing how to perform KYC, troubleshooting or compiling a sufficient knowledge base are the first steps towards building a successful NFT customer support team. 
Security. Dealing with NFT, meaning being in any way involved in the process of NFT creation, selling and buying, is to deal with other people's money. The support provider must be at their most secure 100% of the time. Here is where SupportYourApp's PCI DSS Level 1 Service Provider certification as well as our GDPR compliance come in handy. 
Flexibility. Through 2020 we have seen digital money booming. The cost of coins and the number of transactions have been growing for months, drawing more attention to all-things-blockchain. The NFT market can explode just as fast and strong. NFT support teams have to be flexible, scalable and always ready to deal with inflows of customers' requests.
💛 Flexible, scalable, secure and always ready to help tech startups and unicorns, SupportYourApp will take care of your NFT sales while growing and developing our expertise non-stop. 
❤︎ Like it? — Share: Share on LinkedIn or Share on Facebook

By Anna Shevtsova
.
Anna has been working as a writer for 5 years. She previously wrote about financial markets, conducting the research on the state of bonds and stocks on a daily basis. She is a keen reader with interest in historical literature and international cuisine. Her latest obsession — customer communication and ways to perfect it. If you want to connect with Anna, follow her on LinkedIn.
Posted on