Moving on with the series of articles about customer communication and service. Today, we are venturing into a new territory and taking a good look at FastSpring — a SaaS platform for e-commerce customer service.
In this article, we'll cover:
What Is FastSpring Software?
FastSpring is a SaaS e-commerce platform that offers businesses an online solution for managing their subscription payments.
FastSpring currently deals with next to 20 currencies: U.S. Dollar, Euro, British Pound, Australian Dollar, Japanese Yen, Swiss Franc, Canadian Dollar, Chinese Yuan, New Zealand Dollar, Czech Koruna, Danish Krone, Hong Kong Dollar, Polish Zloty, Singapore Dollar, Swedish Króna, Indian Rupee, and South African Rand, and Russian Ruble.
FastSpring Review: Main Features
Customizability
44% of customers will become repeat buyers after encountering a personalized experience. Personalized calls to action convert 202% better than non-personalized ones. 
FastSpring allows businesses to customize their customer journey:
Order pages can gather and show any information needed.
Shopping carts can be set to be pre-populated with a customer's information.
Company branding can be integrated into the payment process.
FastSpring reviews point out the exceptional influence personalization can have on the growth of the customer base.
Secure Payments
According to Eurostat, about 6% of internet users pass on online payments due to their security concerns. In 2019, these concerns were the second most popular obstacle for online buyers. 
FastSpring is secure and PCI DSS certified. No matter which payment option a buyer chooses: debit or credit card, check, PayPal, money order — they are all safe.
CRM Features
FastSpring has an extensive list of customer communication features. With them, a business can ensure all customer payments are coming in time and customer communication is set up properly.
Subscription to FastSpring Service
FastSpring is a good solution for businesses that do not have a lot of resources for following up on each customer and each payment. One of the most useful features is the possibility to subscribe to their service. Businesses can review, customize, and set specific preferences for their customers. Among others, there are possibilities to set:
Paid trials.
Specific subscription amounts.
The length of the subscription.
The frequency of payments and so on.
FastSpring and other payment systems' customers are looking for more convenient payment options. Having the system as customizable will turn them loyal quickly. 
The software's features and broad functionality provide companies with the possibility to conduct their business in a clear manner, which increases the level of customer trust towards them.
FastSpring Integrations
FastSpring PayPal Integration
PayPal has over 430 million users registered on the platform.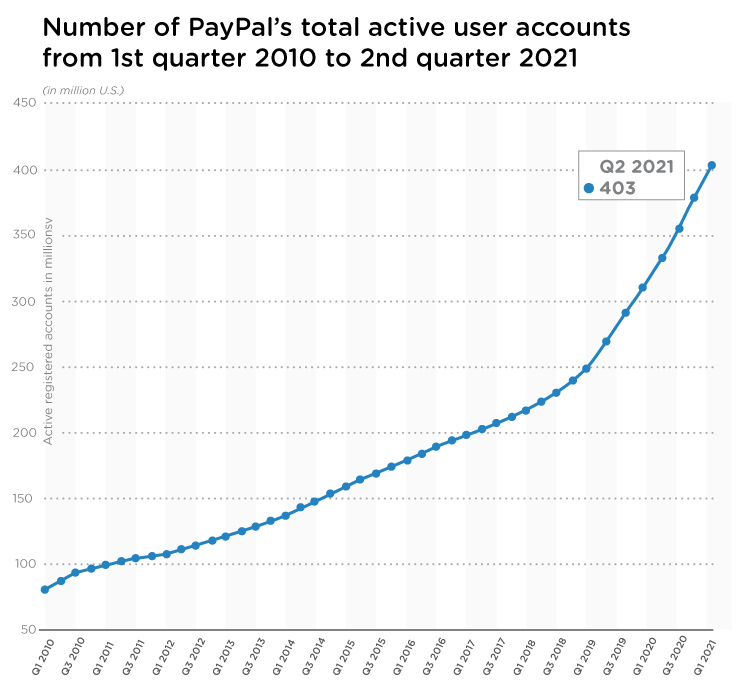 Last year, it accounted for more than 20% of all online transactions made in the US.
Even though FastSpring reviews say PayPal is charging extra fees from its non-US users, having the option to pay via the system helps FastSpring users conduct payments and pay for their subscriptions in a fast and convenient way.
Google Analytics
Tracking and analyzing different KPIs can help any business understand the direction they need to develop in and the changes they need to make to attract more customers. Analytics can also help them understand the behavior and preferences of their customers, which can lead to expanding their customer base and increasing their profits.
FastSpring reviews say its Google Analytics integration does just that, which proves to be very helpful for businesses using the service.
Mailchimp
According to MarTech, Mailchimp currently occupies about 60% of the email marketing industry. For a lot of businesses using FastSpring, it is the only way to reach their customer base, tell them about the changes, offers, discounts, and sales. Together with the possibility to pay for a subscription on the spot, FastSpring provides users with the convenience they are looking for. 
WordPress
The possibility to conduct FastSpring payment right on a business' WordPress website — it can be accomplished by installing a special FastSpring plugin. There are special tutorials on the process, so there might not even be a need to contact FastSpring support and spend a lot of time on the task — just what a startup owner needs.
A lot of FastSpring reviews say that its extensive integrations list and its core features make it a very convenient solution.
FastSpring Pricing
Those thinking about using FastSpring might be in for an unpleasant surprise when it comes to the platform's pricing. FastSpring has 2 pricing options:
An 8.9% fee of the total transaction's value of the transaction.
A 5.9% fee of the total transaction's value, plus 95 cents for each processed transaction.
There are solutions with better pricing models in the market, so FastSpring reviews say the price might be a showstopper for some businesses.
FastSpring Competitors
Shopify
According to many FastSpring reviews, Shopify is a better alternative for small and medium businesses due to its lower cost and easier-to-reach ROI. On the other hand, FastSpring is easier to set up and the system is more flexible and offers more personalization options.
Chargify
Chargify is cheaper than FastSpring and provides businesses with the possibility to reach ROI faster.
Cleverbridge
When compared with FastSpring, cleverbridge is more cost-efficient and makes ROI more possible. FastSpring reviews do say that it is easier to set up, though.
Support-as-a-Service Team
55% of customers still want to deal with human support consultants as opposed to robotic calls or chatbots. 
No matter how good FastSpring reviews claim it or any other e-commerce charging solution to be, it will never work alone. It needs an experienced and strong Support-as-a-Service team to deal with dissatisfied customers and bring a personal touch to every conversation.
We at SupportYourApp know how important it is to establish a personal rapport with the customer and do everything to make sure every customer is satisfied and loyal.
FastSpring Pros and Cons
| | |
| --- | --- |
| ✅ | ❌ |
| Easy to set up | The dashboard is outdated |
| Very customizable | High pricing |
| Has a knowledge base and FAQ section | Order/payment management is not user-friendly |
| Secure | High fees |
| Vast integrations list | 3rd party affiliate system |
| A lot of currencies and way of payment accepted | No desktop app |
Is FastSpring.com safe? Of course!
Is FastSpring cost-efficient? Not really.
Can it fully eliminate the need for human interactions? No way!
FastSpring is a good solution for medium businesses that want to focus on tasks other than following up on orders and customers' subscriptions. Small businesses might want to look for a more cost-efficient solution, and big enterprises are likely to try and personalize their service more than FastSpring would allow them to.
❤︎ Like it? — Share: Share on LinkedIn or Share on Facebook

By Nick Ryabchenko
.
Having been one of the core parts of SupportYourApp, Nick helped to support 50+ products before realizing his vocation of building support processes and integrating all the necessary tools. During the last 5 years he worked with various companies from all around the world, helping them launch their service with SupportYourApp.
Posted on