At SupportYourApp we firmly believe that by resolving the issues of our customers and helping our clients scale, grow and develop, we truly make the world a better place. And the further we go, the better we want to make it. So, with time we came to the conclusion that we want to continue on with improving the world not only by helping people and timely and efficiently resolving their problems, but also to decrease our carbon footprint on the environment.
🍃 As a result, we became extremely eco-centric and eco-friendly. With time, environmental consciousness became one of our core company values and has already deeply set into our DNA.
What are our steps?
1. 📃 🚫 We are completely paperless
We have gone completely paperless in the last several years. In order to do this, we have fully implemented BambooHR "Sign the document" feature which helps us sign all the necessary documentation without the need to print it out and store it. By implementing this, we have completely eliminated the need to use any paper for our business needs. Plus, it really helps us with hiring and onboarding the new consultants remotely when/if our clients need to.
2. 🛍️ 🚫 We are giving up plastic bags
As 2020 rolled out, so did the first batch of eco-bags made out of black cloth. Even though brightly- or at least lightly-colored bags are more common, black color doesn't get visibly dirty as fast, thus requiring less washing. Plus, they simply look cooler that way. We are giving them out to the consultants, who are fully onboard with our eco-centricity.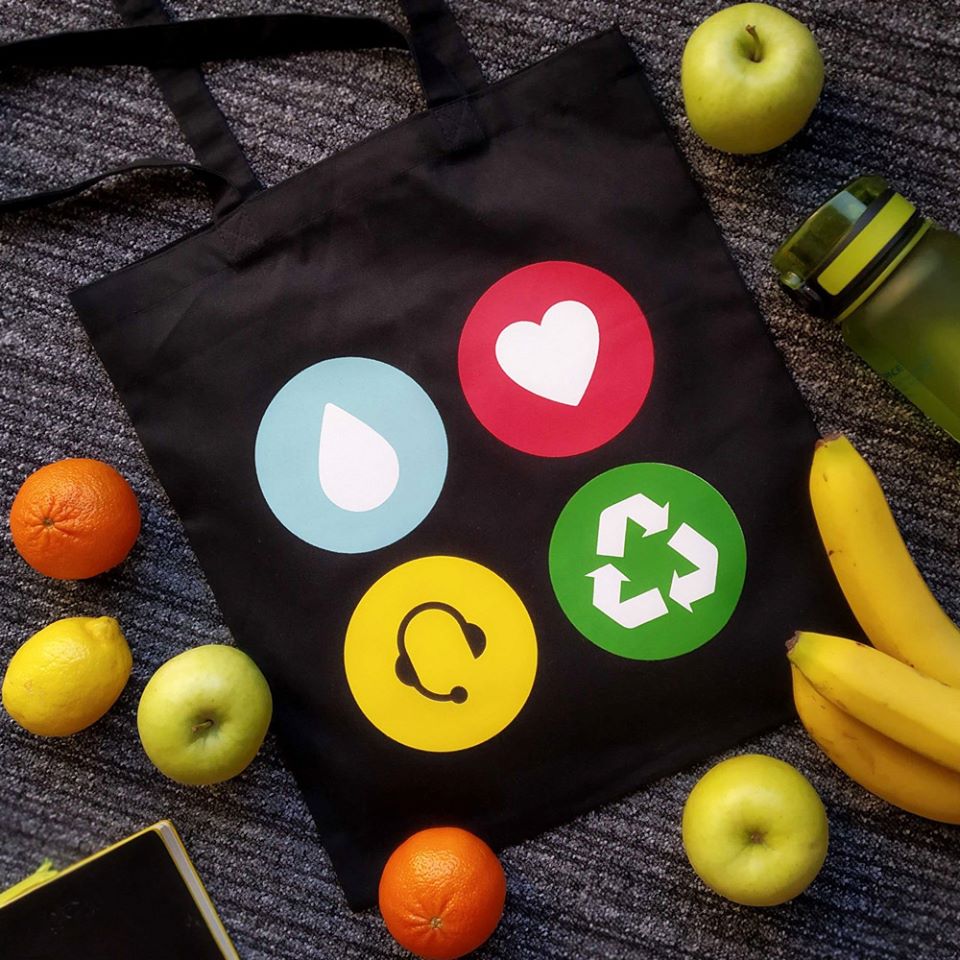 💚 Shout-out to our two awesome consultants Antonina and Anastasia who came up with this idea (among many other ideas that we are still working on) and shared it with us! You truly make the world a better place! 💚
3. 🗑️ We are sorting office waste
It is not common for Ukraine to sort through waste. People here are only starting to come in contact with the need and obligation to recycle. But we are ahead of the time and that is why both of our offices are equipped with not only separate bins for plastic, tetra packs, paper and organic waste, but also with dedicated battery bins.
4. ♳ We recycle everything we can
No matter how much we try, there is still plastic, paper and metal waste that we produce as a result of our busy life at our offices. And surely, we have done everything to find the best partners who help us recycle everything that needs to be recycled.
How being eco influences our customer centricity?
Being an outsource customer support company, we pride ourselves on having clients all over the world. Having partners in different countries helps us get an understanding of eco-initiative all around and prepare ourselves for doing a lot of business over the internet. And yes, that includes signing different documents like contracts, NDAs and various agreements.
Imagine, if every time we needed to set the process up! That would take a lot of time and a lot of manpower. But, as we have already mentioned, we have been paperless for a while now, which really helps us conduct all the business operations fast, on time and without any impact on the environment. This means that our clients immensely benefit from our eco initiatives. And it is only going to get better from here.
What are the core rules?
1. Do not be afraid
Of course, going green and eco-friendly is not the easiest of tasks. It takes a lot of effort and a lot of tools, to make the transition to this new way of life. But, in the long run it is all worth it. Reducing the amount of waste, as well as decreasing out carbon footprints will have the best results for the world we live in.
2. Carry your eco-agenda outside the office
Do not forget that being eco doesn't have to stop in the office. You can totally implement this way of living and thinking to your home habits. Set up a recycling station, try to compost organic waste and ditch driving your car whenever you can.
3. Do not slip into the old habits
Even though it might be tempting not to bother and put a glass bottle, a plastic cup and a battery into one bin and not to look for three separate containers, it is important to stick to the habit of recycling and sorting. Otherwise, there is a chance that NOT doing that is going to become an even bigger habit and it is going to be even harder to kick it.
💛 We at SupportYourApp have strong customer centric traditions, and we are replicating them across all our functions and activities. We believe that the fact that we are not only maintaining our old values with ease, but are also adding to them through the years, demonstrates reliability in partnership and is a good sign for our clients. We are always developing, maintaining and perfecting ourselves and our values, which results in our delivering the best customer service and customer support 24/7/365.

❤︎ Like it? — Share: Share on LinkedIn or Share on Facebook