WhatsApp has over 2 billion users around the world. It is ranked as the most popular mobile app. 23% of US adults use WhatsApp, which means they can use it to connect with brands and businesses. 
How can businesses leverage customer support messenger WhatsApp to start providing an even better customer service? 
In this article, we'll cover:
Why Provide Live Chat Support Through WhatsApp?
It Is Popular
On average, 34% of customers immediately engage with a customer support service when they encounter an issue.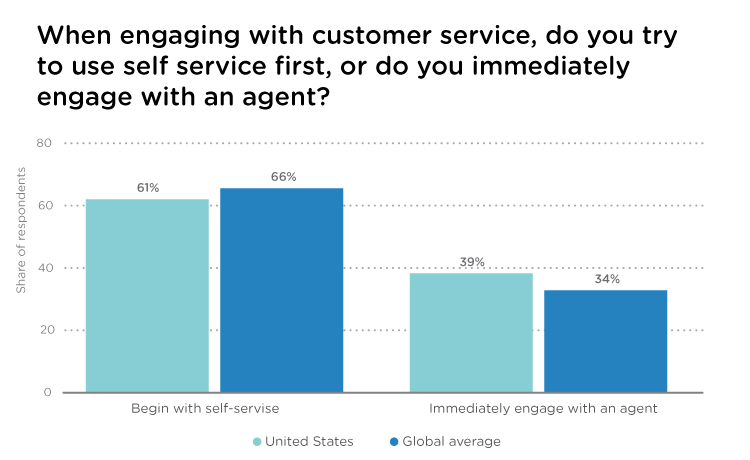 What makes reaching a support team easy?
46% of users prefer using live chat support messengers to connect with a customer support team. At the same time, only 67% of B2C businesses offer the possibility to connect with them over live chat. 
WhatsApp could resolve this in a second — easy to implement, it can be operated from any device and even has a web application. They make WhatsApp one of the most accessible and convenient messengers in the market. 
The Communication Is More Casual
65% of customers across all demographics prefer a casual tone of communication with the customer support team.

Communicating via live chat support messengers will make the process more casual, which will result in high customer satisfaction score.
Leveraging WhatsApp as a customer support messenger and making sure users can talk with a customer support team as if with an old friend will make resolution friendly and informal enough to be memorable and elevate customer satisfaction. 
The Service Is Free and Efficient
WhatsApp is free for customers. The same goes for the web and desktop applications. The messages are instant, and the entire conversation is saved in the user's account. They can come back to the guidance, provided by the customer support team, and replicate the results anytime. 
87% of customers want businesses to proactively approach them. The support representatives can follow customers up directly through the customer support messenger and ask whether they need any additional assistance or help. This is convenient for small- and medium-sized e-commerce businesses. With the help of a CRM system, can track their customers' history of purchases and connect with them to notify them about special offers or sales on the items they have previously purchased. 
There Is a Possibility to Integrate Chatbots
Chatbots can allay a lot of live chat support teams' worries. In 2019 chatbots were handling 68.9% of all customer conversations from start to finish. The number one reason for using customer support messengers chatbots is providing customers with quick answers. 73% of customers say they have had a good experience talking to a chatbot, and the average satisfaction rate is about 88%. 
A business that wants to optimize its processes and provide personalized customer support should look into setting up WhatsApp for its customer communication. It will bring the best of two worlds:
A chatbot will take care of the simplest questions, providing quick answers and searching for the most relevant information.
A human support consultant will jump on a conversation any time, providing personalized services and taking instant care of more complicated requests.
WhatsApp might not be the most popular of customer support communication tools, but it is one of the most efficient due to its core features.
WhatsApp Core Features
Text Messages
WhatsApp users send over 65 billion text messages per day. The system is easy, understandable, and convenient.
There is a possibility to create groups and channels with up to 256 participants. They allow users to either communicate with each other, or get messages from the channel's owner, without the possibility to reply. 
Brands can leverage channels to send out instant news and updates on their stock, sales, and special offers, promoting their proactive image and approach. 
Web, Mobile and Desktop Customer Support Messenger
WhatsApp can be operated from any device — a phone, web, or even a desktop application. This gives customers and live chat support teams the opportunity to always be able to reach each other and get some quick answers. 
Voice and Video Calls
Having the possibility to communicate with customers not only via texts, but through WhatsApp voice and video calls can improve customer experience. 40% of users prefer calling customer support teams when the issue is difficult or delicate, and support teams can't ignore this customer wish. 
Using WhatsApp for customer service can resolve this issue — a support representative can jump on a call whenever a customer wants, even right in the middle of chat communication.
Photo, Video, and Multimedia Exchange Possibilities
Sometimes the resolution process is impossible without additional videos or photos that can better demonstrate what the issue looks like and what led to it occurring. WhatsApp allows both parties to easily exchange pictures and videos, making the resolution process fast and efficient.
WhatsApp also allows exchanging contacts, locations and other types of media and information that can be useful for different purposes and different types of customer support. 
WhatsApp Business and WhatsApp Business API
1. WhatsApp
Best used for individual or peer-to-peer communication or group messages with a group not larger than 256 people.
✅ iOS and Android mobile app
✅ Account created by using a mobile phone number
✅ A 100 MB limit for text messages, audio clips, multimedia, location, files and documents exchange
✅ Voice and video calls
❌ No automation available
2. WhatsApp business
Even though it is not a customer support messenger, per se, it can still be used by local small and medium businesses for peer-to-peer or group messages. It offers templates and a special 'Business chat' indication.
✅  iOS and Android mobile app
✅  Account created by using a landline number
✅  A 100 MB limit for text messages, audio clips, multimedia, location, files and documents exchange
✅  Voice and video calls
✅  Automated greetings and quick messages
3. WhatsApp business API
Best used by call centers and live chat support teams of medium and large businesses. It helps provide the most optimal customer support by businesses submitting their possible response templates for the company's review. This way an optimal customer service is ensured.
❌  No mobile app (there is no need for one)
✅  Account created by applying for a WhatsApp partner
✅  Messages are sent through sessions and template messages that should first be approved by WhatsApp
❌  No calling
✅  No limitation for broadcasting in channels and groups 
Live Chat Support With WhatsApp and SupportYourApp
‼️ SupportYourApp has set up an integration with WhatsApp official partner Twilio. It helps our customer support teams leverage the best features of customer support messenger, WhatsApp Business API.
Among all the above-mentioned perks of WhatsApp, we have spotted several of our own:
With 2 billion active users around the world, WhatsApp allows us to provide seamless customer communication and see no friction between our customer support teams and our clients' customers. 
Even though WhatsApp offers Business and Business API accounts, not a lot of businesses have implemented them into their support system. Communicating with the customers via WhatsApp is still relatively fresh. Using WhatsApp for customer service and support gives businesses a certain edge and a competitive advantage. 
The customer support messenger's robustness and scalability is evident. Anything is possible with every service well-thought-out. With a customer-centric approach, any team can deliver any service and make it a quality one. 
While it has been around for years, WhatsApp is a newbie when it comes to customer service and support. Support teams that know how to leverage it can improve their services right now. Those who are still to catch up with WhatsApp as a live chat support tool should start learning. The messengers are here to stay, and we have to do everything to create a perfect symbiosis with them.
❤︎ Like it? — Share: Share on LinkedIn or Share on Facebook

By Nick Ryabchenko
.
Having been one of the core parts of SupportYourApp, Nick helped to support 50+ products before realizing his vocation of building support processes and integrating all the necessary tools. During the last 5 years he worked with various companies from all around the world, helping them launch their service with SupportYourApp.
Posted on