The use of remote teams in the technology industry began as a fashionable thing for a few companies but has now spread worldwide. In the early days, only trendy startups like BaseCamp and Automattic embraced remote working. In recent times, however, the benefits have become apparent. Even large businesses that are traditionally slower to adapt have begun to rely on offshoring services.
However, with remote working come many challenges due to the shift in the working environment. Managers are often unsure how to get the best results from remote teams. In this post, we will show you how to improve your remote team's productivity. When you adopt these strategies, you can get results that are superior to those you can get with an in-house team.
In this article, we'll cover:
Benefits of Having an Offshore Team
Remote work often goes hand in hand with outsourcing and offshoring. With outsourcing, your company procures business process work from an external supplier. For example, an American company can outsource to a company in Ukraine. With offshoring, you hire a dedicated team of your own in another geographic, offshore, location. These remote arrangements have the following potential advantages.
Remote Teams Give You Access To On-Demand Talent
For businesses located in Western countries, finding qualified talent has become a battle. This situation has been made acuter by recent developments in the technology industry. For example, the rise of mobile devices created the huge demand in an area of technology that had very few trained specialists.
Businesses that could not pay the high costs of salary for such in-demand workers found themselves out in the cold. Hiring remotely, from other countries if necessary, offers a way to beat such talent supply problems.
Offshoring Can Lead to Lower IT Costs
It has become commonplace for organizations to offshore IT operations as a way of cutting costs. This is enabled by locating IT operations in countries and regions of the world where labor costs are lower.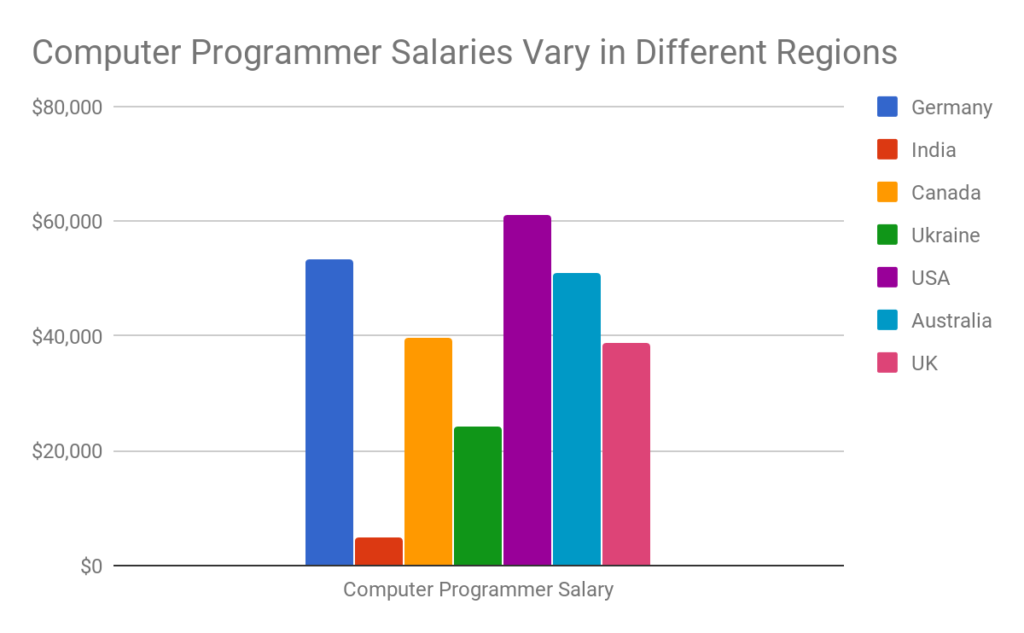 Regions like Eastern Europe and Asia have ample quantities of skilled software developers as well as other IT talent. Hiring talent from these places costs less than comparable talent in North America and Western Europe. For example, the following comparison illustrates the huge potential for saving on costs when hiring "computer programmers."
Chart: Average Computer Programmer Salaries in Different Regions
Here are salaries in 7 countries for this role, according to PayScale:
Remote Team Productivity Tips
The productivity of remote teams depends on adopting proven best practices and tools. These are some tips on how to achieve peak productivity when working with remote teams whether offshoring or outsourcing. If you adopt these best practices, your remote team can not only match but surpass the productivity of an in-house team.
Use Robust Project Management Tools
One of the essential tips for improving remote team productivity is to use a comprehensive project management tool. Project management platforms combine several essential features into one core repository of information about a project.
In addition, these tools enable seamless communication, progress checks, as well as productivity analytics. Some of the best such tools include Trello, BaseCamp, and Asana. A project management solution with sufficient features is one secret to keeping remote projects on track. The dashboards of these products help managers instantly identify potential problems and project delays. As a result, managing the actual work becomes much easier.
Make Communication and Team Meetings a Priority
When working with outsourcing or offshoring teams, communication can suffer. This is because you are working with teams located in different geographic regions. Time-zone differences may mean that you have little overlap in work hours with the people you might be managing.
Project teams that do not make the adjustments necessary to maintain sufficient communication levels often suffer worse productivity. In software development, collaboration necessitates ample communication time.
As an intellectual process, software design and development calls for the sharing of ideas. Potential defects in the design or actual software must be shared and addressed. To do this well, your team must set regular, scheduled times for communication and team meetings.
Set Clear Milestones
One of the biggest challenges of fast-moving teams is evaluating project success. This problem is worse for remote teams where it's not always easy to evaluate how much work is going into the project.
Because your team might be located in different offices, you have a harder time keeping tabs on productivity levels. A great way to get over this hurdle is to set very clear project milestones.
Whether your approach is consultative with the team or more top-down, at the beginning of the day, it should be clear what should be done and when. Failure to clarify these essential project goals can lead to remote projects that go out of a budget. You might find yourself managing a runaway project that costs more than you planned and takes longer to complete.
Tips for Finding Remote Teams
Hiring remote teams is different from hiring in-house teams. This is because evaluating the talent remotely can be more complex. Make sure you are spending enough time on assessing the skills of your remote staff. If you are ready to hire a remote team, these additional tips can help you evaluate potential teams and talent.
Search for Niche Talent Based on Your Exact Needs
The spread of specialty software has made it harder than ever for software developers to master everything. When searching for remote developers, look for experts qualified in the niche technology that you need for your business. There are firms specializing in every different kind of software development you can imagine. For example, some will have a focus on mobile development, while others will have a strength in data science. Still, others will be specialists in software security or other niche areas of technology. First, determine your technology stack. After that, you can begin your search for developers.
Look for Established IT Supply Chains
Businesses that have experience with global outsourcing know that some countries are better for outsourcing than others. This being the case, to get the best results, you should ideally source from regions where supply chains are already among the world's best.
For example, certain regions like Eastern Europe and parts of Asia have expertise supplying IT services to clients from all around the world. Sourcing in a country like Ukraine will likely yield better results than another country where IT sourcing is not as well developed.
Improving Remote Team Productivity
Outsourcing, offshoring, and other forms of remote work have become very important for businesses. The key challenge, for many businesses, is achieving peak productivity with remote teams. To overcome this challenge, your team should adopt remote working best practices. You should source from experienced services vendors, ideally from regions of the world with well established IT supply chains. Make sure to communicate frequently and use the best available tools to keep projects super productive.
---
This is a guest post by Anastasia Stefanuk, Marketing Manager at Mobilunity. Mobilunity is a rapidly growing provider of dedicated remote development teams and IT outsourcing solutions. Founded in 2010 in Kyiv, Ukraine, they provide a wide array of cutting-edge technologies across various industries.
❤︎ Like it? — Share: Share on LinkedIn or Share on Facebook

By Nika Kiriienko
.
Nika is an independent digital marketer with a real passion for the world of customer service who has been working in the field for the last 10 years. She was born and raised in Kyiv, Ukraine which is where she lives now with her adorable Yorkshire Terrier. Nika loves doing a deep research of modern customers' behavior which makes her a real pro in understanding their preferences and interests. She loves travel, technical diving, and sports.
Posted on