In our series of customer communication tools reviews, the time has come to take a closer look at yet another tool — Intercom CRM.
In this article, we'll cover:
What Is Intercom Messaging Platform?
Intercom is a customer and client messaging software used by over 25 thousand businesses globally. 
Intercom CRM is highly versatile. It helps businesses leverage messaging, personalization, and customer data to provide better and unique services.
Intercom Program's Main Features
Live Chat
Intercom CRM's live chat or Intercom Messenger is a widget a business can place on its webpage and set up in a way that guarantees optimal customer communication for new and returning customers. The chat can be tailored to fit returning customers by, for example, giving them the option to continue an old chat, start a new one, or browse Help Center themselves.
Intercom widget can be customized by adding a company's color and logo or setting up a special widget wallpaper. This provides businesses with an additional possibility to establish a feel of a brand for their customers.
Chatbot
World chatbot market has grown by 21% in the last year alone.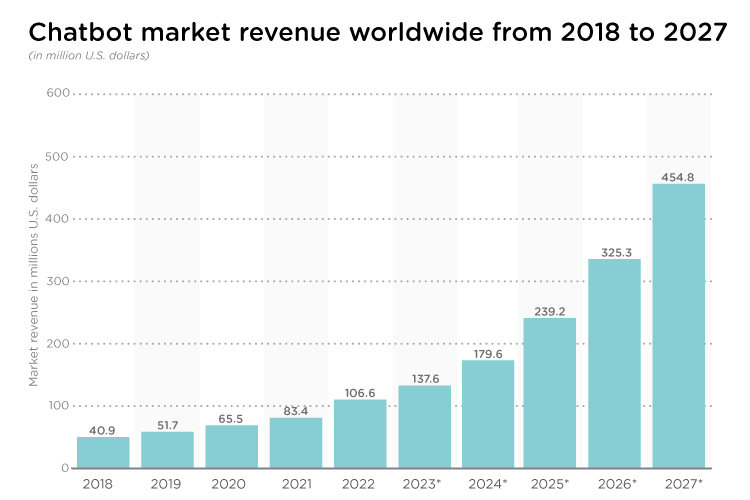 They can answer up to 80% of standard customer questions, thus cutting down business costs by almost 30%. According to PWC, 27% of customers were unsure whether their last brand interaction was with a human or with a bot. 
Intercom Chatbot is simple to use and easy to set up. Its modifications and personalization does not require any programming and can take care of your customer communication even when a support team is overwhelmed or a request comes out of business hours. Intercom CRM chatbot is an elegant and simple solution for a business that wants to optimize its communication without hiring a whole chatbot programming team.
Reports
Intercom CRM reviews point out the extensive reports the software provides for its customers. For example:
Leads and sales.
Messages sent.
Level of customer engagement in the past 7, 28, or 90 days.
Customer satisfaction KPI.
Conversation tags and so on.
To give businesses the fullest picture possible, the data can be filtered by date, country, or tags. Intercom reports help businesses perform at their best.
Intercom CRM Integrations' List
Is Intercom a CRM with many integrations? For sure! Will businesses get lost in them? Not really. All of their integrations are segmented into three main categories:
Support
Zendesk Support
Google Meet
Stripe
Aircall
Facebook
68% of customers are willing to pay more for a service with more personal value. Intercom allows them to connect with businesses by any means and adds value to their service. 
Marketing
Google Analytics
Mailchimp Subscribe
Marketo
KickFire
Zapier
Due to its extensive data gathering system, Intercom can be useful for marketers who can set up business communication styles and target their messages for better audience reach.
Sales
Salesforce
Slack
Google Calendar
Pipedrive
Calendly
These tools help support teams that use Intercom CRM to always be connected with potential and existing clients and always be on top of business communication.
Intercom CRM Review: Pricing
How does Intercom work and can all teams find something in its functionality? More or less — its pricing can play a pivotal role, especially for small businesses with limited budgets and growing communication flow.
For Basic Chats and Messaging
Starts with $59 per month. Additional seat costs $9 per month.
✅ 2 customer support agents
✅ 1,000 active contacts every month
✅ Live chat
✅ Basic help desk
✅ Automated chat messages
✅ Knowledge base for customer self-service
Starts with $119 per month. Additional seat costs $19 per month.
✅ 4 customer support and sales agents
✅ 3,000+ active contacts every month.
✅ Live chat that proactively, collects leads' data, and qualifies them
For Automation and Scaling Communication
Starts with $499 per month. Additional seat costs $49 per month.
✅ 10 team members
✅ 10,000 active contacts every month
✅ Consolidated all-in-one live cat solution with live chat, help desk, email marketing, and knowledge base features
✅ Customizable chatbot
✅ Custom branding
Starts with $999 per month. Additional seat costs $99 per month.
✅ Anything a business might need to provide high quality customer communication
Intercom as a CRM: What Are the Competitors?
Zoho vs. Intercom
Zoho is a cheaper Intercom CRM alternative that offers more possibilities even with a less-costing account. Teams get an unlimited amount of chats with new website visitors, audio calls, and chat routing. Zoho also provides reports and desktop app.
Intercom vs. Zendesk
Zendesk is much cheaper, which makes it a better option for small teams and startups. It also offers call center management possibilities. On the other hand, Intercom CRM users note its ease of use as well as a better value for money ratio.
Intercom vs. Salesforce
Having a see-through pricing model and a simpler, more clear interface makes Intercom a more preferable option for the teams that do not want to spend resources on learning how to work with difficult software like Salesforce.
QCRM vs. Intercom
Being developed in-house by SupportYourApp, QCRM offers a lot of flexibility for our support teams. It provides clear performance and communication reports and gives our management team the possibility to follow the processes of every support consultant.
Intercom CRM Tool: Pros and Cons
| | |
| --- | --- |
| ✅ | ❌ |
| A good tool for data tracking and cross-channel communication | Missing integrations with popular messenger platforms |
| Gives businesses possibilities to leverage different marketing techniques | Very expensive |
| Allows businesses to set up chatbots | Might limit customer support teams |
| Flexible and easy to set up | Voice communication features are underdeveloped |
| Has push notifications and mail marketing campaigns possibilities built-in | Businesses have to pay for every add-on |
What is Intercom? It is a flexible and adaptable enough CRM that can be set up to suit different businesses' needs. It offers extensive customer communication information and can be useful for sales, support, and marketing teams. On the other hand, Intercom CRM pricing rids small businesses with limited budgets from the opportunity to leverage it to the fullest.
❤︎ Like it? — Share: Share on LinkedIn or Share on Facebook

By Nick Ryabchenko
.
Having been one of the core parts of SupportYourApp, Nick helped to support 50+ products before realizing his vocation of building support processes and integrating all the necessary tools. During the last 5 years he worked with various companies from all around the world, helping them launch their service with SupportYourApp.
Posted on