Product Hunt is an incredible site for technology, software and startup enthusiasts to share all of their favorite products and services. This is our experience and step by step guide we used to gain important traffic/leads with Product Hunt!
In this article, we'll cover:
Has Your Startup Hit a Plateau?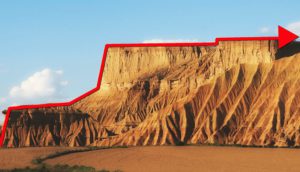 Many small startups begin their journey with the essentials of marketing and business development… SEO, PPC ads, email outreach, networking, etc, yet many CEOs will hit a plateau trying to get their new product off the ground.
This is where I let you know about an awesome growth secret. (you can thank me now or thank me later)
It wasn't until we discovered & did a crazy amount of research on Product Hunt — that we realized how incredibly powerful this startup showcase website could be. Since I feel "startup showcase website" might be a little insulting to the PH team… I'll give a much more flattering description from the mouths of VC firm First Round Capital:
"Product Hunt is now the place to discover the "next big things" in tech. Every day, it curates a list of the top products and startups that people haven't heard of yet and lets a widening yet select group of members upvote, comment and discuss. The result is a daily top 10 list of what people should be paying attention to across the industry. Founders are using it as a launch pad, investors as a hunting ground, and many others just to stay in the know."
IMPORTANT: Your product needs to be good enough to share and talk about if you want Product Hunt to post you. Anybody with the "Maker" status can hunt products, so get in touch with these guys 😉
Now, prior to our Product Hunt launch, SupportYourApp had been relying on SEO/PPC ads/word of mouth mainly as resources to secure more leads & more clients (Maybe some of you can relate).
But it just wasn't cutting it.
It was due to Product Hunt that we were able to get over this "hump".
A Short Word…
Before I let you know how I did it & the preparation behind the launch… It's necessary for a short description of us & a little selfless promotion.
My name is Jack & I'm the marketing guy behind SupportYourApp. We are simply a customer support team in Kyiv, Ukraine. As of writing this, we have 20 clients that we do 24/7 phone & email support for.
Okay intro over… back to what you came here for 🙂
The Stats
Our Product Hunt launch on Tuesday November 10th, yielded nearly 250 upvotes, 10x more page clicks, a 1500% increase in visits, & most importantly… 60 leads (and growing). EDIT: It's been a month since launch and we are in the process of securing multiple contracts from our PH campaign.
This might not sound huge, but for a company that averages around 7–10 unpromising leads per month… it is significant.
How Did SupportYourApp Achieve This Product Hunt Success?
After the awesome suggestion of one of my good friends Josh — Marketing Director for Softorino (responsible for Waltr) — I decided to start working on a Product Hunt campaign in hopes of getting some more traffic like they did. Waltr's launch on Product Hunt was super successful (500+ upvotes) & using some of Josh's advice, I composed pre-launch & post-launch plans that I followed explicitly. Here they are:
Preparation
1. Research, research, research. I read tons of blogs on the successes (& failures) of many makers, CEO's, & founders of startups. In my opinion blogs (like this one) are the best resource you can invest your time in if you plan on launching on PH. Here's a good site: Maker Success

2. Prepare an awesome landing page. Although many companies create their own landing pages in preparation for PH (here's an awesome example), for the sake of time, we decided to opt for a pop-up notification on the main page of our site. (This is important & something we could've done better) see below

3. Finding an influential hunter & choosing the right time to launch. For this I took a look at the top hunter leaderboards here & politely asked many of them if they could hunt us. Important: Don't be a spammy a..hole. This will guarantee no invites. As for time, went with Tuesday Midnight PST to get a full 24 hours in America starting from the West Coast.
4. Tagline. Choose & write a headline (around 45 characters) that describes your product straight to the point & with no BS/sales talk.
5. Start a collection. (Optional, but nonetheless helpful) As a Product Hunt user, you can add any submission to a list & give it a name/description. If you want the most success, please make sure this collection is relevant to your own product. As an outsourcing solution to help startups grow… I created a collection called "Services 4 Scaling Startups". Once your product is hunted, you can add your product & get some extra traffic. Luckily… my collection was featured by the founder of Product Hunt, Ryan Hoover & was sent out to every PH user via newsletter. Awesome!
The Launch
1. Make it known that you're on PH by sending out emails/newsletters, & sharing on social media.
2. Tweet out to Product Hunt to request maker status on your own product.
3. Add all necessary media (photos, videos, header)
4. Thank every person that upvoted your post (I tweeted all first day voters with individual "thank you" notes)
5. Comment & respond to anybody with actual feedback or questions on your product
SupportYourApp was hunted a little after midnight PST by Kevin William David. This was 10:00am in Kyiv, so I had the privilege of a full night of rest & a full day of PH exposure.
The day started off slow & we didn't get added as makers until our Product Hunt friends in San Fransisco woke up. This is okay :)! Once 7–8am rolled around, we were added as makers & were able to comment and introduce ourselves.
By 5:00PM Kyiv time (7AM PST), I had left the office to get some sushi with my girlfriend. Although I'm usually a very attentive BF, this particular dinner I was constantly on my phone in order to reply to every single person that showed interest in us on PH (Sorry Maggie). But being in the customer support industry, I know how important timely responses are to success.
Once the day started unravelling, we were fortunate enough to get some love from Product Hunt via a 100+ upvote tweet promoting SupportYourApp, & also an email sent out to all PH users showcasing my collection:
We ended the day at the #9 spot with more than 250 upvotes, 60 leads, 1,500 page visits & that impressive infographic that you saw above.
Best of luck to all of you young, aspiring startups out there! 🙂
If you have any questions or feedback for me, feel free to leave a comment below OR even better… tweet me! Jack Plantin
❤︎ Like it? — Share: Share on LinkedIn or Share on Facebook

By Nika Kiriienko
.
Nika is an independent digital marketer with a real passion for the world of customer service who has been working in the field for the last 10 years. She was born and raised in Kyiv, Ukraine which is where she lives now with her adorable Yorkshire Terrier. Nika loves doing a deep research of modern customers' behavior which makes her a real pro in understanding their preferences and interests. She loves travel, technical diving, and sports.
Posted on